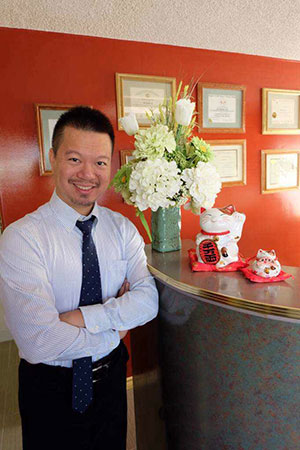 Ian Zhu is a long time resident of Maple Ridge, B.C. where he practices Traditional Chinese Medicine Acupuncture.  He grew up in Guangzhou, China and later lived in Vancouver, B.C. where he attended University of British Columbia.  Ian majored in both biochemistry and genetics at U.B.C., and graduated with highest honours.
Both of Ian's parents were Acupuncturists and Doctors of Chinese Medicine in China and also here in Maple Ridge.  Owing to this early exposure as well as his family traditions, Ian Zhu went on to study at the prestigious Shanghai Traditional Chinese Medicine College.   
Fluent in both Chinese and English, Ian Zhu brings a wealth of knowledge from his deep understanding of Chinese medicine philosophy along with his background in western sciences. Since the early year of 2000, he began working in TCM Health Care Center where he is able to integrate the strengths of both western medicine and traditional Chinese medicine in his treatments.
Ian recognizes the importance in the ancient Chinese saying, "It is better to travel ten thousand miles than to read ten thousand books."  Medical knowledge and expertise in treating diseases are important, but equally vital is the experience with language, cultures and societies very different than your own when engaging patients and creating a lasting relationship with patients. He has travelled extensively around Canada, the U.S., Europe and mainland China, and continues his studies of classical Chinese medicine and the therapeutic effect of Acupuncture on spinal cord injury (SCI) and neuropathy.
Ian Zhu currently lives in Maple Ridge with his loving wife and daughter.